WHAT THING IS LOVE
English lute songs
The making of a live, stereo recording featuring Didrik DeGeer microphones and Neumann 149's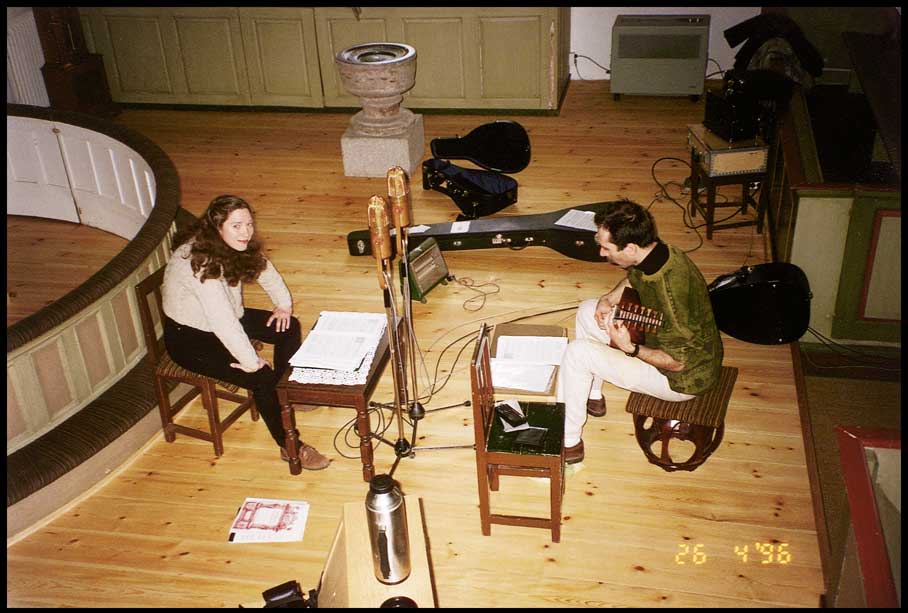 Amy Elizabeth Wheeler had never met Poland's leading renaissance lutenist Jaroslaw Lipski, but he rang her up after seeing one of her performances as "Cupid" in John Blow's Venus and Adonis at the Warsaw Chamber Opera and suggested they record a CD of English lute songs.
They decided to record a demo and shop it around to producers and record labels in Poland.  They performed several concerts in preparation for the demo and when they felt ready, they recorded the demo in a moderately sized chapel in a youth hostel in the center of Warsaw. The engineer was a nice person of few words who adjusted microphones and cables and then disappeared to his control room located in the basement of the building. Not much is known about the equipment used for that session except that it was recorded analog and ended up on a DAT with some sound processing.  It was hardly expected that one of those songs would later end up on the final CD.
During this time Amy met her husband, Carl, a Swedish chemical and process engineer who was impressed by the demo and took it around to some of his friends who were pop music producers. The demo received a unanimous thumbs-up and the advice given, based on the enormous changes going on in the music industry at that time, was to try and produce an independent recording. Since opportunities to promote and market music independently were gaining ground over signing with labels in the midst of slashing their budgets, the decision was made and the real work began.
The first question was, should the recording be analog or digital? In order to record in the desired acoustic space (which at that point could have been anywhere on Sweden's west coast) a light, affordable, portable system was needed. This made digital recording the obvious choice. The analog link in the digital chain would be solved by the best microphones and the best AD converters available.
To capture the English lute song at its best, Amy and Jaroslaw searched for a microphone that didn't color the real sound of the voice or the lute. Amy's husband came across an article about Dedrik De Geer who meticulously hand builds his own microphones and pre-amplifiers - not to mention the silver cables that go with them. Convinced that this was the right microphone, he immediately phoned De Geer to inquire about purchasing a pair, but the $12,000 price tag for a single microphone (as well as the cost for the amplifiers and cables) was impossibly high. When De Geer understood what sort of recording was going to be made, he offered to help out and rented what would be needed as well as arranging for Gert Palmcrantz, one of Sweden's best producers (and masterful with with De Geer's microphones) to produce and engineer the recording.  
The first sessions took place in a little wooden church on Sweden's west coast (Tjärnö), where there was virtually no traffic and no interruptions (except for Palmcrantz's elk jokes). Palmcrantz had a clever recording set-up with a laptop DAT (Sony PMC-E7700) which had 16 bit AD converters modified by DeGeer to better service the microphones.  To make the live stereo recording, Gert placed Amy and Jaroslaw facing each other with the two microphones in between them (see above photo).  This took some getting used to since they always look at their audience and not at each other when they perform.  DeGeer's microphones were very sensitive to the color and sound of Amy's voice so that moving a tiny "hair" totally changed the overall sound - which also took time getting used to. 
They recorded many songs during the three day session, but unfortunately not enough for a full CD. There was nothing left to do but to rent the mics and pre-amps again, this time at a discounted price and without Palmcrantz due to schedule conflicts. To replace Palmcrantz's Sony PMC-E7700, a Sony V77 multi effect processor (supposed to have excellent AD converters) and a Roland VS880 were used. Carl filled in as the recording engineer. They recorded the lute solos first and waited to see if Amy's cold would blow over - which it didn't. After one week, they ended up with three lute solos and a stuffy-nosed version of Shakespeare's "Where the bee sucks". Everyone was glad for the lute solos but pretty disappointed that no more songs were recorded. To complete the CD, there was no other alternative but to buy microphones and processors. A Meridian 518 digital processor was purchased, and the V77 was sent to Marenius Electronic AB in Gothenburg, to carefully measure both its analogue and digital I/O by an AP (Audio Precision) Analyzer to ensure that the Meridian 518 would have the right settings. Then it was back to hunting for the right microphones.
After a lot of time spent in a multitude of shops with inexperienced sales people, Amy and Jaroslaw decided to go to a famous store in London where they could test just about every microphone on the market in a quiet and professional atmosphere. Choices were narrowed down to Neuman's U87 for the lute however the vocal mic was still under much discussion.  At that time, Neumann had a new microphone called the M149 which was about to make its debut. It had already been reviewed in various magazines as the microphone-we have-all-been-waiting-for. The M149 was not yet available in stores so Amy visited Neumann in Connecticut to see if she could give it a test.The folks at Neumann were really nice and very helpful - they didn't normally set up microphones for testing in their corporate office but they seemed genuinely glad to do so.  After testing the mic dry and then with reverb, Amy was convinced that it was the best microphone for her voice. Since the songs would be recorded with the Palmcrantz set-up, two M149's were purchased. A custom built preamp from Marenius in Gothenburg had been ordered to match the M149's specifications, but unfortunately Maurenius had late deliveries so he offered up the best preamp he had, a SMF-5. As for the recording location, the little wooden church was not available, and since Jaroslaw felt it had been a bit dry, it was agreed to record in a stone church just outside of Warsaw in the town of Konstancin. 
The church in Konstancin had a very long reverb which at times made it difficult for Amy to hear the lute, but for some songs the effect was quite good - and especially for the lute solo on "Lord Willoughby's welcome home". With the sessions completed, Amy started reviewing the songs and putting them in order. A big surprise came when she listened to all the takes of "Woods, rocks and mountains", and discovered there was something essential missing. Despite the technically sound recording sessions, the performances were not satisfying. Amy went back and listened to the demo recorded in Warsaw four years earlier and there was the perfomance that was missing. She decided that it was more important for the song to reach the listeners as she had intended it, so the demo version ended up on the final CD.
What Thing is Love was mastered by Torbjörn Samuelsson (Digital Fabriken, Göteborg) who was impressed by the natural purity of its being a live, stereo recording with no mixing. A discussion arose about the dry acoustic of the wooden church and he wondered if minimal reverb should be used to color the lute solos and two of the songs "What thing is love" and "As I lately in a dream". In the end, the lute solos fared much better with the minimal addition of reverb than the songs did; the voice acquired a slightly more penetrating sound rather than an ambient sound.  The adjustments on this CD can serve as a useful means for others to judge and decide where and when to process their sound, if at all.
Productive collaboration with top professionals and taking full advantage of the marketing and promotional tools available for independent artists and labels have all been vital factors to successfully producing a live stereo recording.The unit sales, digital sales and radio play for What Thing Is Love continues to increase including over 200,000 downloads for selected tracks on Early Music America.
LISTEN TO TRACKS